View toward Hilo from the Visitor Center
We must admit, not all days are this beautiful!
East View
Look carefully and you can see HIlo harbor.
View Towards Puna
The Visitors Center views are expansive. This is South East.
Visitors Center / Sunken Garden
The visitors center is right next to our sunken garden. Guests are invited to walk down into the sunken garden and look at what is one of the shortest streams in Hawaii, less than 200ft long! Actually it is a segment of lava tube that has collapsed, with water emerging from a nearly blocked tube, and exiting through a cave.
Sunken Garden
Here Derek, our trail designer and leader, is working on the edge of this collapsed lava tube.
The Cave at the End of the Stream
The stream that runs through the sunken garden drops into a cave. Notice that the cave has many of the colors in the Lavaloha logo. Many thousands of years ago, lava flowed through this cave.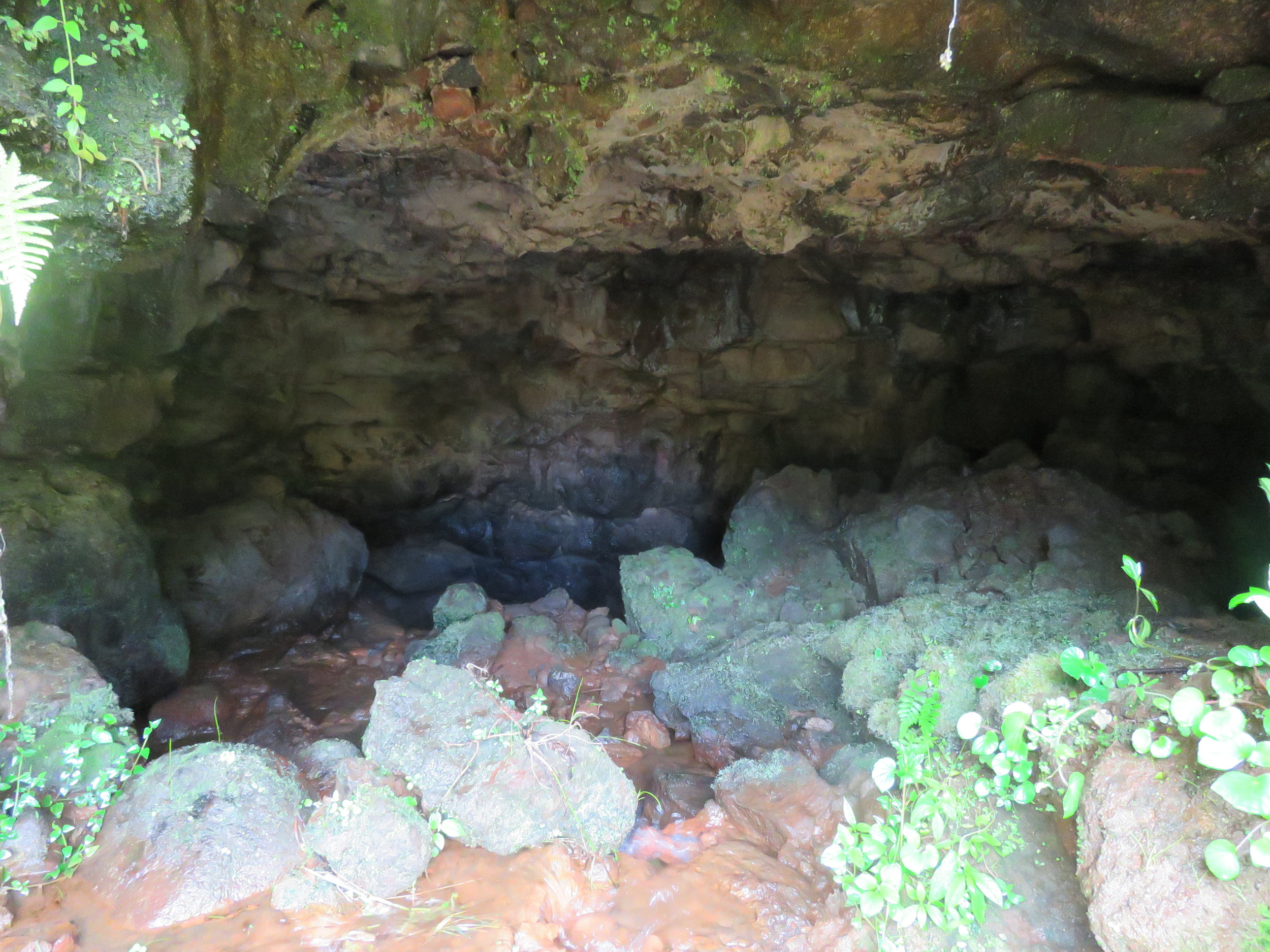 Oil Palm
These oil palm trees were planted with the goal of allowing us to produce the fuel we need to run our diesel powered tractors and mowers. They are not quite old enough to produce the bunches needed for this purpose
Oil Palm Bunches
These are the seed bunches of the oil palm. They will turn red when they are ready to harvest.
Lychee
These lychee trees are about four years old, and will soon be producing a substantial crop of this delicious tropical fruit.
Notice the top of Mauna Kea behind the clouds in the background. Several of the observatories domes are visible.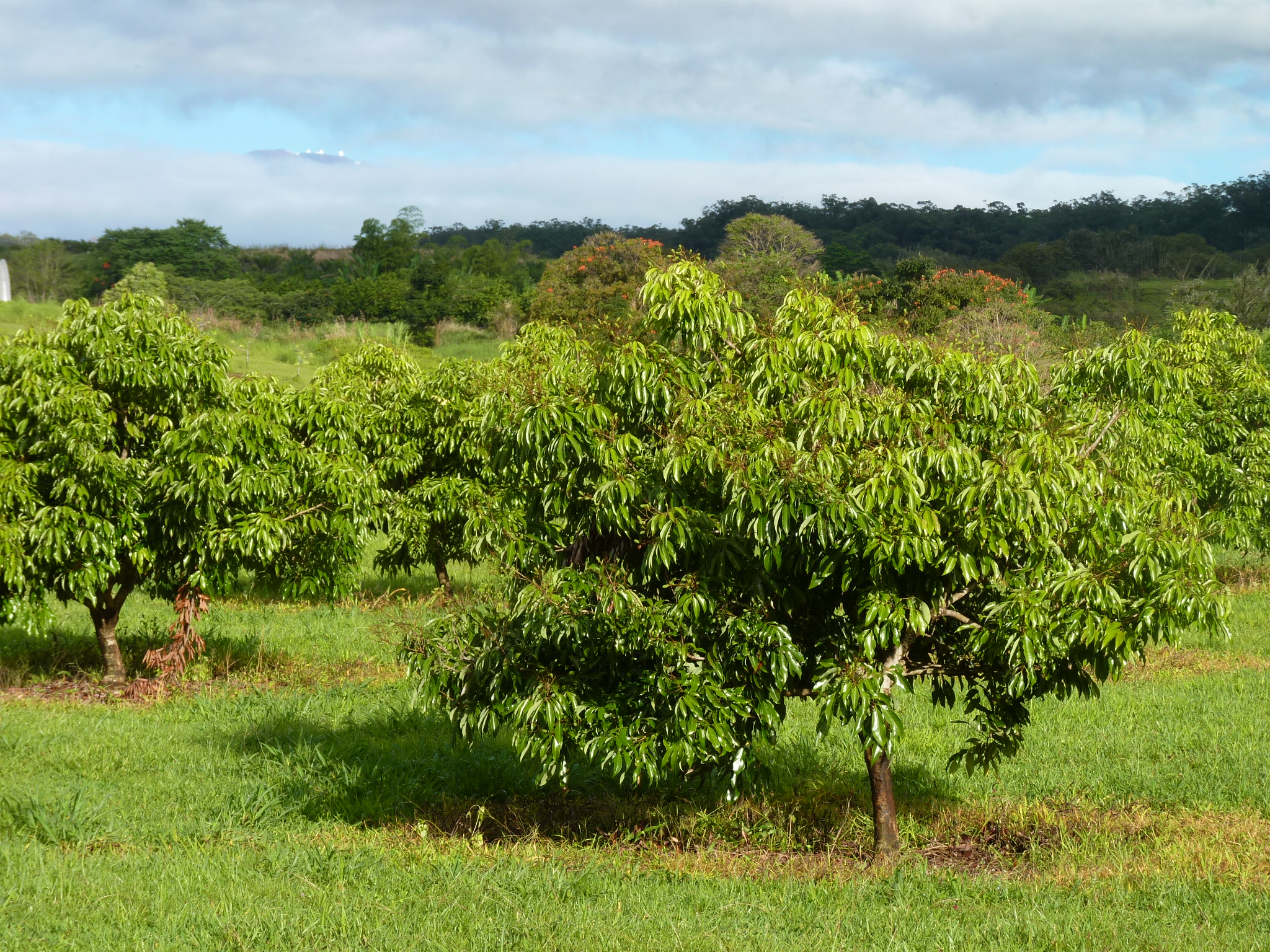 Coffee (Part of all tours)
Here are some of our coffee trees. Notice the view of Hilo (the Airport and Hilo Bay). The farm is located on a slope facing Hilo Bay, but we can also see the mountains Mauna Loa and Mauna Kea.
Red Coffee Cherries
The coffee cherries start out green and gradually become soft and red as they ripen.
Yellow Coffee Cherries
The yellow cherries also start out green.
There are many similarities between cacao and coffee- they are both red and yellow when ripe. Many of the processes are also simlar- seed removal, drying, winnowing and roasting.
Cattle
Cattle graze in the non-forested areas that are not being used for crops. The cattle keep the grass and weeds well maintained
As our herd has grown, we have had to reduce the area available for leasing for other ranchers. Our sweet potato areas and cacao plantings are also cutting into the area available for cattle.
The cattle are quite tame as they are fed reject sweet potatoes, which they consider to be great treats!
Big Iron Fills Two Bays
We originally thought that some of these would make good tour vehicles, particularly in the roughest areas. Now we just store them so you can see them up close and personal.
Want to buy one? We hope so, since we are now considering alternate uses for this greenhouse!
M-1078 Cargo Truck
1998 Stewart & Stevenson Cargo Truck: LMTV. Cover for cargo bed removed, but available.
We originally imagined using this for tours, but have chosen a different path. This beast is available for $20,000.
Deuce and a Half
This all wheel drive beast was used in an Indiana Jones movie as a "Russian Truck". It has a flex-fuel engine that can run on almost anything combustible. For sale for $10,000.
Unimog with Bucket and Backhoe
2004 Freightliner Industrial Wheel Tractor Model# FLU419.
We now have a backhoe so this machine is less compelling. $15,000.
Unimog, without Bucket or Backhoe
1990 Freightliner Industrial Wheel Tractor Model # FLU419. Without it's bucket or backhoe, this is only $7000.
1982 Pettibone Crane
Model# A/S32M-14
Both front and real wheels are steerable.
Of two minds for this machine. It's good for hauling stuff out of gulches and the like, but we don't do that often. $25,000.
Fire Truck
Everyone should have a fire truck! That includes us, so we're not selling it!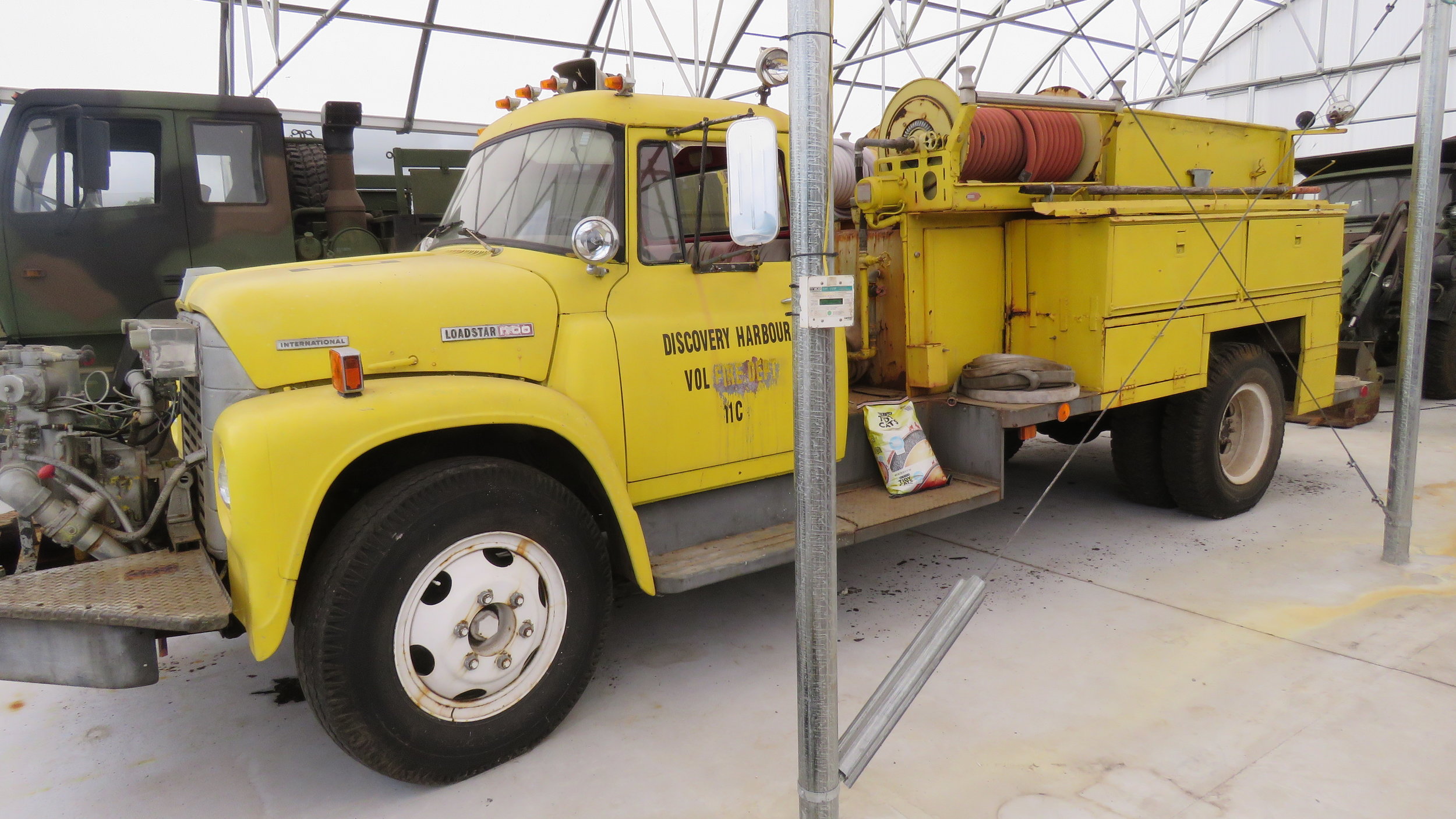 1953 Farmall Tractor
This A version Farmall has an offset engine so the driver can look down the row. Cute, but we'll part with it for $5000.
2008 Fecon Forestry Crawler
Model FTX 148L.
This machine is used to clear land of brush and small trees. It got used a lot less than we expected, and we are selling it for a lot less than we paid for it. $85,000.